| | |
| --- | --- |
| Album artist 17 - David Bowie | |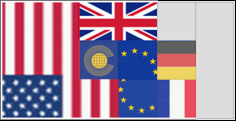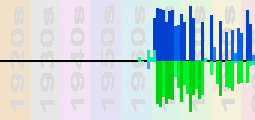 This page lists the album chart runs of David Bowie. A list of songs by David Bowie can be found here. The albums are listed with the most widely successful first.
Recorded for groups such as "The King Bees", "The Mannish Boys", "The Lower Third", "The Spiders" and "Tin Machine". His original name was Davy Jones but he changed it because of the artist of that name in The Monkees.
| | | | | |
| --- | --- | --- | --- | --- |
| # | Artist | Album Title | Year | Chart Entries |
| 1 | David Bowie | The Rise & Fall Of Ziggy Stardust & The Spiders From Mars | 1972 | Library of Congress artifact added 2016 (1972), Grammy Hall of Fame in 1999 (1972), BEA 1 of 1972, UK Platinum (certified by BPI in Jan 1982), US Gold (certified by RIAA in Jun 1974), UK 5 - Jul 1972 (167 weeks), RS100 6, DMDB 8, Australia Goset 10 - Oct 1972 (15 weeks), Acclaimed 16 (1972), Guiness 19, Billboard 21 - Jun 1972 (79 weeks), Vinyl Surrender 21 of all time, Radio Caroline 24 (1972), WXPN 24 (1972), PopVortex 26 (1972), Norway 27 - Mar 2001 (4 weeks), Virgin 27, D.Marsh 28 of 1972, Channel4 32, Rolling Stone 35, WTMD 38, Belgium 49 of all time (1972), German RS100 55, RS Reader's 56, Italy 68 of 1973, ODK Germany 95 - Jan 2016 (2 weeks), Defin200 171 (1972), RYM 1 of 1972, KEXP 18, WFUV 54, AVrev 64, Xgau rating B+ (1972) |
| 2 | David Bowie | Let's Dance | 1983 | UK 1 - Apr 1983 (56 weeks), Norway 1 - Apr 1983 (24 weeks), Sweden 1 - May 1983 (22 weeks), Australia num 1 for 1 week - Apr 1983, New Zealand 1 for 8 - May 1983, ODK Germany 2 - May 1983 (36 weeks) (20 weeks in top 10), Germany 2 - May 1983 (21 weeks), Austria 2 - May 1983 (7 months), Grammy in 1983 (Nominated), US Platinum (certified by RIAA in Jun 1983), UK Platinum (certified by BPI in May 1983), Billboard 4 - Apr 1983 (68 weeks) (16 weeks in top 10), Australia (Kent) 4 of 1983 (peak 1), France (InfoDisc) 8 of 1983 (peak 1, 70 weeks), US CashBox 9 of 1983, US BB 12 of 1983, Switzerland 17 - Nov 1983 (4 weeks), Italy 36 of 1983, Holland free40 46 of 1983, UK Radio2 56, Acclaimed 1029 (1983), RYM 158 of 1983, Xgau rating B (1983) |
| 3 | David Bowie | Scary Monsters & Super Creeps | 1980 | UK 1 - Sep 1980 (32 weeks), Australia num 1 for 5 weeks - Oct 1980, New Zealand 1 for 3 - Oct 1980, UK Platinum (certified by BPI in Jun 1981), Norway 3 - Sep 1980 (22 weeks), Sweden 4 - Sep 1980 (26 weeks), Melody Maker 5 of 1980, BEA 6 of 1980, ODK Germany 8 - Oct 1980 (28 weeks) (1 week in top 10), Germany 8 - Oct 1980 (4 weeks), Billboard 12 - Oct 1980 (27 weeks), Holland free40 13 of 1980, D.Marsh 16 of 1980, Australia (Kent) 18 of 1980 (peak 1), France (InfoDisc) 30 of 1978 (peak 1, 61 weeks), US BB 63 of 1980, UK Radio2 88, Acclaimed 484 (1980), WXPN 575 (1980), WTMD 750, RYM 28 of 1980, KEXP 431, Xgau rating B+ (1980) |
| 4 | David Bowie | Diamond Dogs | 1974 | UK 1 - Jun 1974 (33 weeks), Canada 1 for 2 weeks - 1974, Australia Goset 1 - Jun 1974 (9 weeks), US Gold (certified by RIAA in Jul 1974), Billboard 5 - Jun 1974 (25 weeks) (4 weeks in top 10), Holland free40 6 of 1974, US 70s 7 - Jul 1974 (1 month), Norway 8 - Jun 1974 (12 weeks), BEA 9 of 1974, France (InfoDisc) 11 of 1974 (peak 4, 48 weeks), Australia (Kent) 20 of 1974 (peak 3), US BB 47 of 1974, Italy 52 of 1974, UK Radio2 58, US CashBox 74 of 1974, WXPN 462 (1974), WTMD 759, Acclaimed 1243 (1974), RYM 81 of 1974, KEXP 526, Xgau rating C+ (1974) |
| 5 | David Bowie | Blackstar | 2016 | Billboard 1 - Jan 2016 (12 weeks) (1 week at number 1) (3 weeks in top 10), US num 1 for 1 week - Jan 2016, Canada 1 for 1 week - 2015, ODK Germany 1 - Jan 2016 (22 weeks) (1 week at number 1) (7 weeks in top 10), Australia num 1 for 1 week - Jan 2016, New Zealand 1 for 2 - Jan 2016, Brit best album 2017, Acclaim Year 1 of 2016, BEA 2 of 2016, Mercury prize 2016 (Nominated), Holland free40 5 of 2016, Australia (ARIA) 8 of 2015, Chart2000.com album 51 of 2016 |
| 6 | David Bowie | Low | 1977 | UK 2 - Jan 1977 (23 weeks), BEA 5 of 1977, D.Marsh 7 of 1977, Norway 10 - Jan 1977 (12 weeks), Billboard 11 - Jan 1977 (20 weeks), Sweden 12 - Jan 1977 (14 weeks), Holland free40 16 of 1977, Austria 17 - Mar 1977 (2 months), Virgin 47, US BB 62 of 1977, ODK Germany 84 - Jan 2016 (1 week), PopVortex 86 (1977), Acclaimed 91 (1977), US CashBox 96 of 1977, Rolling Stone 249, WXPN 497 (1977), WTMD 615, UK Silver (certified by BPI in Jan 1975), RYM 5 of 1977, KEXP 199, Xgau rating B+ (1977) |
| 7 | David Bowie | Station To Station | 1976 | Billboard 3 - Feb 1976 (32 weeks) (9 weeks in top 10), US 70s 4 - Feb 1976 (2 months), US Gold (certified by RIAA in Feb 1976), UK 5 - Feb 1976 (17 weeks), BEA 6 of 1976, Norway 8 - Feb 1976 (10 weeks), Sweden 11 - Feb 1976 (14 weeks), D.Marsh 24 of 1976, US BB 27 of 1976, France (InfoDisc) 53 of 1976 (peak 3, 21 weeks), Italy 64 of 1976, US CashBox 79 of 1976, ODK Germany 91 - Jan 2016 (1 week), Acclaimed 269 (1976), Rolling Stone 323, WXPN 403 (1976), WTMD 690, RYM 13 of 1976, Xgau rating A (1976) |
| 8 | David Bowie | Best Of Bowie | 2002 | US Platinum (certified by RIAA in Oct 2006), UK Platinum (certified by BPI in Dec 2002), Europe Platinum (certified by IFIP in 2003), Billboard 4 - Nov 2002 (50 weeks) (2 weeks in top 10), Sweden 9 - Oct 2002 (11 weeks), Norway 10 - Mar 1981 (15 weeks), UK 11 - Nov 2002 (55 weeks), Austria 12 - Aug 1981 (4 months), Switzerland 15 - Nov 2002 (4 weeks), ODK Germany 16 - Nov 2002 (15 weeks), Italy 94 of 2002, Australia (ARIA) 96 of 2015, Chart2000.com album 52 of 2016 |
| 9 | David Bowie | Hunky Dory | 1971 | UK Platinum (certified by BPI in Jan 1982), UK 3 - Sep 1972 (124 weeks), BEA 4 of 1971, Virgin 23, German RS100 25, Norway 33 - Jul 2002 (1 week), Guiness 34, Radio Caroline 35 (1971), PopVortex 46 (1971), Vinyl Surrender 49 of all time, Billboard 57 - Apr 1972 (19 weeks), Acclaimed 59 (1971), DMDB 88, WTMD 104, Rolling Stone 107, WXPN 162 (1971), RYM 5 of 1971, KEXP 58, Xgau rating A- (1971) |
| 10 | David Bowie | Aladdin Sane | 1973 | UK 1 - May 1973 (72 weeks), Australia Goset 4 - Jun 1973 (13 weeks), US Gold (certified by RIAA in Aug 1983), BEA 8 of 1973, Norway 11 - May 1973 (20 weeks), Billboard 17 - May 1973 (23 weeks), UK Radio2 29, Italy 32 of 1973, France (InfoDisc) 39 of 1973 (peak 3, 22 weeks), Radio Caroline 182 (1973), Rolling Stone 277, WXPN 447 (1973), Acclaimed 452 (1973), WTMD 587, RYM 47 of 1973, KEXP 641, Xgau rating B+ (1973) |
| 11 | David Bowie | Tonight | 1984 | UK 1 - Oct 1984 (19 weeks), US Platinum (certified by RIAA in Nov 1984), Norway 3 - Oct 1984 (6 weeks), Sweden 4 - Oct 1984 (6 weeks), UK Gold (certified by BPI in Oct 1984), ODK Germany 8 - Oct 1984 (11 weeks) (1 week in top 10), Germany 8 - Oct 1984 (5 weeks), Austria 8 - Nov 1984 (4 months), Switzerland 8 - Oct 1984 (6 weeks), Billboard 11 - Oct 1984 (23 weeks), US CashBox 39 of 1984, US BB 41 of 1984, Italy 59 of 1984, Xgau rating C (1984) |
| 12 | David Bowie | Never Let Me Down | 1987 | Sweden 2 - May 1987 (14 weeks), Norway 3 - May 1987 (8 weeks), US Gold (certified by RIAA in Jul 1987), UK Gold (certified by BPI in May 1987), Austria 5 - May 1987 (5 months), UK 6 - May 1987 (16 weeks), ODK Germany 11 - May 1987 (19 weeks), Germany 11 - May 1987 (3 weeks), Switzerland 18 - May 1987 (3 weeks), Italy 24 of 1987, Billboard 34 - May 1987 (26 weeks), US CashBox 40 of 1987, France (InfoDisc) 41 of 1987 (peak 6, 14 weeks), Xgau rating C+ (1987) |
| 13 | David Bowie | Young Americans | 1975 | UK 2 - Apr 1975 (12 weeks), US Gold (certified by RIAA in Jul 1975), Billboard 9 - Mar 1975 (51 weeks) (3 weeks in top 10), Norway 13 - Mar 1975 (9 weeks), D.Marsh 21 of 1975, US CashBox 40 of 1975, US BB 54 of 1975, Fox101 70, WXPN 509 (1975), Acclaimed 765 (1975), UK Silver (certified by BPI in May 1975), RYM 159 of 1975, Xgau rating B- (1975) |
| 14 | David Bowie | Heroes | 1977 | UK 3 - Oct 1977 (26 weeks), Holland free40 5 of 1977, Norway 13 - Nov 1977 (2 weeks), Sweden 13 - Nov 1977 (4 weeks), D.Marsh 21 of 1977, Austria 22 - Dec 1977 (2 months), Billboard 35 - Nov 1977 (19 weeks), Italy 42 of 1977, ODK Germany 44 - Jan 2016 (1 week), France (InfoDisc) 94 of 1977 (peak 19, 16 weeks), Acclaimed 236 (1977), WXPN 783 (1977), RYM 30 of 1977, KEXP 317, Xgau rating B+ (1977) |
| 15 | David Bowie | ChangesBowie | 1990 | UK 1 - Mar 1990 (29 weeks), US Platinum (certified by RIAA in Mar 1991), Germany Gold (certified by BMieV in 1993), Austria 6 - Apr 1990 (4 months), ODK Germany 7 - Apr 1990 (29 weeks) (4 weeks in top 10), Germany 7 - Apr 1990 (9 weeks), Norway 16 - Jul 1997 (8 weeks), Switzerland 18 - Apr 1990 (9 weeks), Australia (ARIA) 33 of 1990, Billboard 39 - Apr 1990 (27 weeks), Italy 41 of 1990, France (InfoDisc) 96 of 1990 (peak 6, 8 weeks) |
| 16 | David Bowie | Heathen | 2002 | Norway 2 - Jun 2002 (10 weeks), Mercury prize 2002 (Nominated), ODK Germany 4 - Jun 2002 (19 weeks) (3 weeks in top 10), Germany 4 - Jun 2002 (6 weeks), Austria 4 - Jun 2002 (3 months), UK Gold (certified by BPI in Jul 2002), France Gold (certified by SNEP Nov 2002), UK 5 - Jun 2002 (6 weeks), Sweden 6 - Jun 2002 (8 weeks), Switzerland 7 - Jun 2002 (9 weeks), Billboard 14 - Jun 2002 (9 weeks), Holland free40 59 of 2002, US BB 162 of 2002, RYM 180 of 2002 |
| 17 | David Bowie | Reality | 2003 | Europe num 1 for 1 week - Oct 2003, Norway 2 - Oct 2003 (4 weeks), UK 3 - Sep 2003 (4 weeks), ODK Germany 3 - Oct 2003 (8 weeks) (1 week in top 10), Germany 3 - Sep 2003 (2 weeks), UK Gold (certified by BPI in Sep 2003), France Gold (certified by SNEP Dec 2003), Switzerland 5 - Sep 2003 (4 weeks), Sweden 5 - Sep 2003 (4 weeks), Austria 17 - Oct 2003 (2 months), Billboard 29 - Oct 2003 (4 weeks), Holland free40 77 of 2003 |
| 18 | David Bowie | The Next Day | 2013 | ODK Germany 1 - Mar 2013 (18 weeks) (1 week at number 1) (4 weeks in top 10), New Zealand 1 for 1 - Mar 2013, Billboard 2 - Mar 2013 (13 weeks) (1 week in top 10), Mercury prize 2013 (Nominated), Acclaim Year 11 of 2013, Holland free40 72 of 2013, Australia (ARIA) 100 of 2013, Chart2000.com album 63 of 2013 |
| 19 | David Bowie | Pin-Ups | 1973 | UK 1 - Nov 1973 (36 weeks), Australia Goset 2 - Dec 1973 (24 weeks), UK Gold (certified by BPI in Nov 1973), Norway 8 - Nov 1973 (7 weeks), Australia (Kent) 12 of 1974 (peak 4), Billboard 23 - Nov 1973 (21 weeks), France (InfoDisc) 34 of 1973 (peak 6, 26 weeks), Italy 35 of 1973, Xgau rating B- (1973) |
| 20 | David Bowie | ChangesOneBowie | 1976 | UK 2 - Jun 1976 (28 weeks), US Platinum (certified by RIAA in Sep 1981), Billboard 10 - Jun 1976 (38 weeks) (1 week in top 10), Sweden 14 - Jun 1976 (19 weeks), Australia (Kent) 19 of 1976 (peak 8), US BB 57 of 1976, US CashBox 58 of 1976, RS100 96, Rolling Stone 425, Xgau rating A (1976) |
| 21 | David Bowie | Black Tie, White Noise | 1993 | UK 1 - Apr 1993 (11 weeks), UK Gold (certified by BPI in Apr 1993), Norway 8 - Apr 1993 (5 weeks), ODK Germany 15 - Apr 1993 (13 weeks), Germany 15 - May 1993 (3 weeks), Switzerland 18 - Apr 1993 (8 weeks), Sweden 18 - Apr 1993 (6 weeks), Holland free40 21 of 1993, Austria 22 - May 1993 (2 months), Billboard 39 - Apr 1993 (8 weeks), Italy 45 of 1993 |
| 22 | David Bowie | Lodger | 1979 | UK 4 - Jun 1979 (17 weeks), UK Gold (certified by BPI in Jun 1979), Holland free40 6 of 1979, Sweden 9 - Jun 1979 (8 weeks), Norway 11 - Jun 1979 (3 weeks), Austria 13 - Jul 1979 (1 month), Billboard 20 - Jun 1979 (15 weeks), D.Marsh 38 of 1979, France (InfoDisc) 58 of 1979 (peak 11, 32 weeks), Acclaimed 1707 (1979), RYM 91 of 1979, Xgau rating A- (1979) |
| 23 | David Bowie | Stage | 1978 | New Zealand 1 for 2 - Dec 1978, UK Gold (certified by BPI in Jan 1978), UK 5 - Oct 1978 (10 weeks), Norway 18 - Nov 1978 (2 weeks), Sweden 29 - Oct 1978 (2 weeks), Billboard 44 - Oct 1978 (13 weeks), Italy 83 of 1978, Holland free40 98 of 1978, RYM 142 of 1978, Xgau rating B+ (1978) |
| 24 | David Bowie | Hours | 1999 | Sweden 2 - Oct 1999 (5 weeks), ODK Germany 4 - Oct 1999 (10 weeks) (2 weeks in top 10), Germany 4 - Oct 1999 (4 weeks), Austria 4 - Oct 1999 (2 months), Norway 4 - Oct 1999 (6 weeks), France Gold (certified by SNEP Jun 2000), UK 5 - Oct 1999 (3 weeks), Switzerland 18 - Oct 1999 (5 weeks), Billboard 47 - Oct 1999 (4 weeks), Italy 60 of 1999, UK Silver (certified by BPI in Oct 1999) |
| 25 | David Bowie | David Bowie At The Tower Philadelphia | 1974 | UK 2 - Nov 1974 (12 weeks), US Gold (certified by RIAA in Nov 1974), Billboard 8 - Oct 1974 (21 weeks) (3 weeks in top 10), Norway 12 - Nov 1974 (5 weeks), US BB 57 of 1974, Italy 75 of 1975, WXPN 572 (1974), Xgau rating C- (1975) |
| 26 | David Bowie | 1. Outside | 1995 | UK 8 - Oct 1995 (4 weeks), Sweden 13 - Sep 1995 (6 weeks), Norway 15 - Oct 1995 (2 weeks), Billboard 21 - Oct 1995 (6 weeks), Switzerland 22 - Oct 1995 (3 weeks), Austria 28 - Oct 1995 (2 months), ODK Germany 33 - Oct 1995 (9 weeks), UK Silver (certified by BPI in Dec 1995), RYM 123 of 1995 |
| 27 | David Bowie | Eart hl i ng | 1997 | Sweden 5 - Feb 1997 (5 weeks), UK 6 - Feb 1997 (4 weeks), ODK Germany 11 - Feb 1997 (8 weeks), Germany 11 - Feb 1997 (2 weeks), Norway 13 - Feb 1997 (3 weeks), Austria 16 - Mar 1997 (2 months), Switzerland 20 - Feb 1997 (6 weeks), Billboard 39 - Mar 1997 (6 weeks) |
| 28 | David Bowie | Rare | 1983 | Sweden 5 - Jan 1983 (18 weeks), Norway 11 - Feb 1983 (7 weeks), ODK Germany 13 - Feb 1983 (18 weeks), Germany 13 - May 1983 (12 weeks), UK 34 - Jan 1983 (11 weeks), France (InfoDisc) 99 of 1983 (peak 18, 20 weeks), Italy 100 of 1983 |
| 29 | David Bowie | Bowie At The Beeb - Best Of The BBC Recordings 68-72 | 2000 | UK 7 - Oct 2000 (4 weeks), Norway 22 - Oct 2000 (5 weeks), Sweden 37 - Oct 2000 (1 week), ODK Germany 69 - Mar 2016 (1 week), Billboard 181 - Oct 2000 (1 week), UK Silver (certified by BPI in Oct 2000), RYM 25 of 2000 |
| 30 | David Bowie | The Singles Collection | 1993 | UK Platinum (certified by BPI in Apr 1994), France 2 X Gold (certified by SNEP Dec 1994), UK 9 - Nov 1993 (16 weeks), Sweden 38 - Dec 1993 (2 weeks), ODK Germany 64 - Jan 1994 (8 weeks) |
| 31 | David Bowie | Sound & Vision | 1989 | UK Platinum (certified by BPI in Mar 1990), US Gold (certified by RIAA in Nov 1995), Billboard 97 - Oct 1989 (15 weeks) |
| 32 | David Bowie | Space Oddity | 1972 | Billboard 16 - Nov 1972 (36 weeks), UK 17 - Nov 1972 (37 weeks), Australia Goset 17 - Jun 1973 (2 weeks), US CashBox 86 of 1973, WTMD 531 |
| 33 | David Bowie | Christiane F. - Wir Kinder vom Bahnhof Zoo | 1981 | Austria 3 - Jun 1981 (5 months), ODK Germany 5 - May 1981 (25 weeks) (6 weeks in top 10), Germany 5 - May 1981 (18 weeks), Billboard 135 - Apr 1982 (7 weeks) |
| 34 | David Bowie | ChangesTwoBowie | 1981 | UK Gold (certified by BPI in Jan 1982), UK 22 - Nov 1981 (17 weeks), Sweden 35 - Feb 1982 (2 weeks), Billboard 68 - Dec 1981 (18 weeks) |
| 35 | David Bowie | The Man Who Sold The World | 1971 | UK 24 - Nov 1972 (30 weeks), Billboard 105 - Nov 1972 (23 weeks), WTMD 711, Acclaimed 1517 (1970), RYM 98 of 1971, KEXP 854 |
| 36 | David Bowie | Golden Years | 1983 | UK 33 - Aug 1983 (5 weeks), Sweden 33 - Sep 1983 (4 weeks), ODK Germany 50 - Sep 1983 (3 weeks), Billboard 99 - Aug 1983 (9 weeks) |
| 37 | David Bowie | The Platinum Collection | 2005 | Sweden 26 - Jul 2006 (4 weeks), UK 55 - Nov 2005 (1 week), Billboard 65 - Jan 2016 (1 week), UK Silver (certified by BPI in Nov 2005) |
| 38 | David Bowie | Fame & Fashion (Bowie's All Time Greatest Hits) | 1984 | Italy 30 of 1984, UK 40 - Apr 1984 (6 weeks), Billboard 147 - Apr 1984 (6 weeks) |
| 39 | David Bowie | Ziggy Stardust - The Motion Picture | 1983 | UK 17 - Nov 1983 (6 weeks), Billboard 89 - Nov 1983 (15 weeks), RYM 42 of 1983 |
| 40 | David Bowie | Nothing Has Changed The Very Best Of Bowie | 2014 | ODK Germany 4 - Nov 2014 (18 weeks) (3 weeks in top 10), Australia (ARIA) 15 of 2015, Billboard 57 - Dec 2014 (4 weeks) |
| 41 | David Bowie | The Very Best Of David Bowie | 1980 | UK Platinum (certified by BPI in Dec 1981), UK 3 - Jan 1981 (20 weeks) |
| 42 | David Bowie | The Rise & Fall Of Ziggy Stardust & The Spiders From Mars (1990) | 1990 | UK 17 - Jun 1990 (7 weeks), Billboard 93 - Jul 1990 (9 weeks) |
| 43 | David Bowie | Santa Monica '72 | 2008 | Sweden 40 - Jul 2008 (1 week), UK 61 - Jul 2008 (1 week), RYM 87 of 1994 |
| 44 | David Bowie | Chameleon | 1981 | New Zealand 1 for 1 - Jan 1981 |
| 45 | David Bowie | The Best of David Bowie 1969/1974 | 1997 | UK Gold (certified by BPI in Dec 1997), UK 13 - Nov 1997 (10 weeks) |
| 46 | David Bowie | The Best Of David Bowie 1974/1979 | 1998 | UK 39 - May 1998 (2 weeks), UK Silver (certified by BPI in Nov 1998) |
| 47 | David Bowie | A Reality Tour | 2004 | ODK Germany 39 - Nov 2004 (8 weeks), UK 53 - Feb 2010 (1 week) |
| 48 | David Bowie | Nothing Has Changed | 2016 | New Zealand 1 for 4 - Feb 2016 |
| 49 | David Bowie | David Bowie Narrates Prokofiev's 'Peter And The Wolf' | 1978 | Billboard 136 - May 1978 (8 weeks) |
| 50 | David Bowie | Hunky Dory (1990) | 1990 | UK 39 - Apr 1990 (2 weeks) |
| 51 | David Bowie | Aladdin Sane (1990) | 1990 | UK 43 - Jul 1990 (1 week) |
| 52 | David Bowie | Pin-Ups (1990) | 1990 | UK 52 - Jul 1990 (1 week) |
| 53 | David Bowie | Images 1966-1967 | 1973 | Billboard 144 - Mar 1973 (9 weeks) |
| 54 | David Bowie | Space Oddity (1990) | 1990 | UK 64 - Apr 1990 (1 week) |
| 55 | David Bowie | The Man Who Sold The World (1990) | 1990 | UK 66 - Apr 1990 (1 week) |
| 56 | David Bowie | Diamond Dogs (1990) | 1990 | UK 67 - Oct 1990 (1 week) |
| 57 | David Bowie | Young Americans (1991) | 1991 | UK 54 - May 1991 (1 week) |
| 58 | David Bowie | Station To Station (1991) | 1991 | UK 57 - May 1991 (1 week) |
| 59 | David Bowie | Low (1990) | 1991 | UK 64 - Sep 1991 (1 week) |
| 60 | David Bowie | The Best Of | 1981 | Sweden 25 - Jan 1981 (10 weeks) |
| 61 | David Bowie | Who Can I Be Now? [1974-1976] | 2016 | ODK Germany 28 - Oct 2016 (1 week) |
| 62 | David Bowie | The Collection | 1985 | UK Silver (certified by BPI in Oct 1990) |
| 63 | David Bowie | The Best Of - 1980/1987 | 2007 | UK 34 - Mar 2007 (1 week) |
| 64 | David Bowie | Love You Till Tuesday | 1984 | UK 53 - May 1984 (4 weeks) |
| 65 | David Bowie | Lazarus | 2016 | ODK Germany 62 - Oct 2016 (1 week) |
| 66 | David Bowie | Five Years [1969-1973] | 2015 | ODK Germany 63 - Oct 2015 (3 weeks) |
| 67 | David Bowie | Labyrinth | 1986 | ODK Germany 29 - Jul 1986 (8 weeks) |
| 68 | David Bowie | Best Of (Deutsche Edition) | 2002 | Austria 13 - Nov 2002 (1 month) |
| 69 | David Bowie | BBC Radio Theatre, London, June 27, 2000 | 2000 | RYM 37 of 2000 |
| 70 | David Bowie | David Bowie | 1969 | RYM 165 of 1969 |